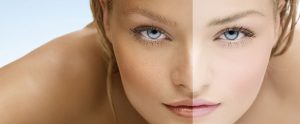 If you're not sure how to use your whitening cream try following the simple routine outlined below.
The expected result when using a skin whitening serum is that areas of darker skin will become lighter. We would expect to fade these darker areas and eventually make them disappear completely!
While it is possible to lighten the skin and reduce the appearance of dark spots or hyperpigmentation this does not, unfortunately, happen overnight. Remember that these brown spots may have formed over many years of exposure to the sun so you will need to be patient and persistent in your approach to lighting the skin.
Whitening creams should be used once or twice a day for a period of time to progressively reduce the areas of brown pigmentation. It can often take 10-12 weeks to see significant change.
Also remember no skin whitening routine will be effective if you continue to expose your skin to the sun. If you are using skin lightening creams or whitening serums it is important to protect your skin every day to avoid further damage from UV rays. This means using a good quality sunscreen with a high SPF (sun protection factor).
How To Use Whitening Creams Daily
Most skin whitening products will have specific instructions for use on the packaging. However as a general rule you can follow this simple daily routine, morning and night.
Step 1
Using a Facial Cleanser , Cleanse your face with warm water to open the pores and clean away dirt. Opening the pores allows the cream or oils to penetrate the skin more effectively. You can apply a toner afterwards if you use one.
Step 2
Rinse the skin with warm water and pat dry.
Step 3
Now it's time to apply the skin whitening serum or cream to the affected area as directed. It is best to use the fingertips to apply the cream in a circular motion, gently rubbing it into the skin.
You need to use the cream on a regular basis to achieve the best results and you will need to be patient! You will probably see a noticeable difference after a couple of weeks but a complete transformation may take a few months. The results will depend on your skin colour to start with and the desired skin tone you are trying to achieve.
Once you achieve your desired skin tone you should continue to use the whitening cream but not as regularly as you did before.
Can I apply more than one skin whitening product?
Yes you can use more than one whitening product. Simply apply the products one after the other. Try to use the product with the lightest texture first and the heavier lotion last. Note: If you're using a rich cream with multiple lightening agents like SKINLAB Illumine then you don't need to apply more creams.
Step 4
Remember it is essential that you use sunscreen during the day if you are going outdoors or even indoors behind windows.
Step 5
You should then exfoliate the area of skin to be lightened on a weekly basis. This involves removing dead skin cells to expose the fresh new skin cells beneath. You can apply exfoliating cream in a circular motion. Try using a natural lightening scrub like lemon and sugar. Unless you're skin is sensitive, go for a softer exfoliating scrub like Saffron or Strawberry seeds.