SUGAR SCRUBS VS SALT SCRUBS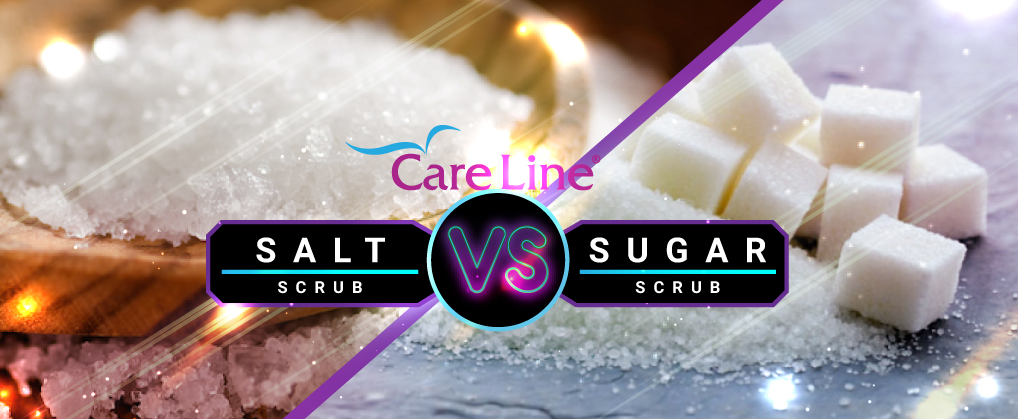 Wondering the benefits of sugar scrubs vs salt scrubs? This article shares the pros and cons and when to use each one for best results.
Benefits of Sugar Scrubs vs Salt Scrubs
Both sugar and salt scrubs have a lot of benefits to them. Both exfoliate the skin leaving glowing soft skin behind. But, there are some differences to them that you should know so that you know when to use one over the other. The benefits of sugar scrubs vs salt scrubs depend on why you're doing it and the condition of your skin. Let's take a look at the differences dependent on the reason you're using them.
Sugar is Tougher
Sugar granules are larger than salt granules and dissolve faster too. This means that for sensitive skin sugar may not be a better choice over salt because you don't want to cause abrasions to your skin by being too harsh with it. Since the particles are larger in sugar it's the best choice for delicate skin when compared to salt that has smaller particles and dissolves slower.
Sugar is Best for whitening
Due to the reasons mentioned above, the largerer particles make sugar easier on the delicate skin on your face. It slues off dead skin cells and reveals the fresh lighter skin underneath. When you use a sugar scrub on your face you still want to be very gentle. Simply rub with your hands in small gentle circles without applying much pressure and let the sugar do its job. You don't need to let it dissolve first either. Just rub it on, and off, and you're done.
Best for: dead skin, heels, can be used all over the body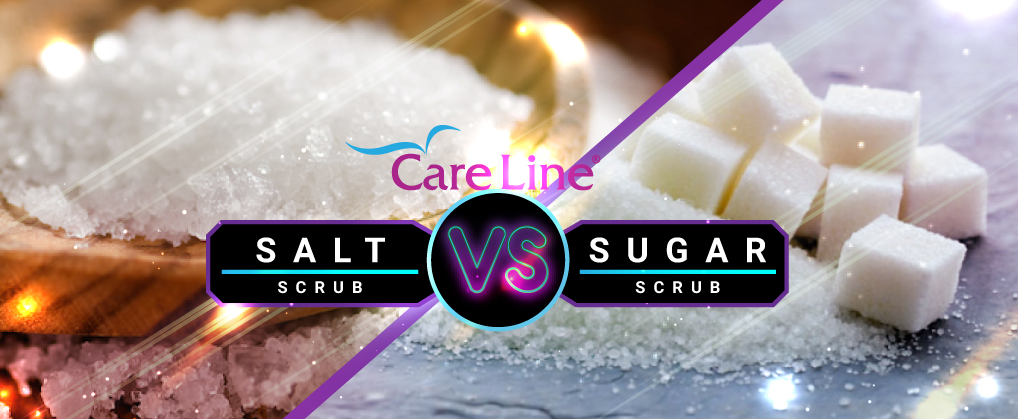 Salt Kills Bacteria & Reduces Inflammation
In addition to being courser and removing hard calloused skin better than sugar scrubs, salt scrubs can also help kill bacteria. Plus, used on the skin, salt can help reduce inflammation. The inflammatory properties of salt are what makes soaking in Epsom salt is so good for you. Plus, some salts have mineral compounds that are good for you too such as Dead Sea Salts. But remember, you can get the benefits of a salt scrub without scrubbing but by soaking instead. Try this DIY Bath Salt Recipe and see for yourself!
Salt scrubs rely on granular salt particles to buff away dead skin cells. Salt, itself, has antiseptic properties and is more "detoxifying" to the skin, making it a great option for foot and body soaks. Not to mention, salt granules tend to be a bit larger in size and are strong enough to tackle rough skin. (Think: calluses, elbows, etc.) And, depending on what type of salt is in your scrub, Dead Sea or Himalayan, salt scrubs can be chalk full of minerals.
Sea salt also draws toxins out of the body and acts as an anti-inflammatory for sore muscles. Epsom salts, though not actually salt (they're magnesium sulfate), are world-renowned for their detoxification powers and work best in the bathtub.
Mix sea salt with an oil-based cleanser or moisturizer for a deep-cleaning scrub. Add a few drops of your favorite essential oil or herbs for an extra benefit of aromatherapy.
Best for: elbows, knees, feet, calluses, Body and face
Interested in a scrub? Make it a heavenly one with one of Careline Face & Body Scrub for full-body & face treatments, which harness the power of natural, nutrient-based exfoliation to leave your skin glowing and renewed.
Author : Katherine Watson